Animal shelters at capacity over the holidays | News
SHERWOOD, ARK. (KTHV)- If you're thinking about getting a pet for the holidays, now is the perfect time.
Many shelters across the state are at or near capacity. In the last 10 days, 17 dogs and six cats have been turned in to the Sherwood Shelter, where it is already a packed house.
"We have a lot of animals right now. Probably about 30 that need homes for the holidays," said Robin Breaux, director of Animal Services for the city of Sherwood.
Dog after dog is filling up space in nearly all 31 kennels at the shelter.
"Right now, we are full, we are almost at maximum capacity," said Breaux.
Since October 1, the shelter has found homes for 112 animal, but they've also had 165 more brought in, and that number is expected to rise over the holidays.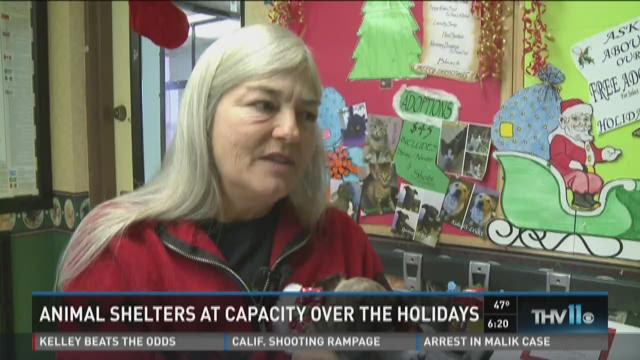 "The holidays are sometimes a stressful season for people," explained Breaux. "People may be moving, they may become sick. So, this time of year, we usually get in more."
The shelter hasn't had to euthanize for space in over three years, but it could become a reality if the animals aren't adopted soon.
"We can become overpopulated really quickly. There are days you can get in 10 or 15 animals in just one day, and if you don't have kennel space you have to make kennel space," said Breaux.
Which is why Amanda Harrison and her family are looking to make room at their home.
"They were full and needing adoptions, and we figured we'd come and meet them and adopt," said Amanda Harrison of Little Rock.
The shelter is holding specials like their Home for the Holidays adoption drive throughout the month, offering free adoptions for some sterilized animals with approved applications. They hope this encourages people to adopt at a shelter, rather than buy a pet from the store.
"There are so many dogs that aren't adopted. So, why keep buying a dog when you can come to the shelter and just find a dog that really needs a home and is a good pet," said Harrison.
For more information, visit the Sherwood Shelter's Facebook page.